L'ASD Peepul Sport Onlus carries out sailing courses and regattas in Naples for both beginners and professional athletes with reduced motor, mental or sensory capacity.
The sailing activity has two levels: Sailing school   Competitive
Ongoing activities
At Christmas give or treat yourself to a sailing course in Naples for the 2023 season
Take advantage of the promotion:
4 lessons for 150 euros + 50 registration fee
8 lessons for 300 euros + 50 registration fee
Sign up by January 6 and you can enjoy an additional discount of 10%.
For information and registration, fill out the information form or call us at 0817647693
"V.E.L.A. - Valuing Empowerment Free Abilities" co-funded by the Presidency of the Council of Ministers, Department of Youth Policies and Civil Service under the Action and Cohesion Plan Notice "Youth for Social Affairs 2018" for the implementation of sailing courses in Naples.
The project aims to conduct sailing courses to promote autonomy, equal opportunities and social inclusion of people with special needs through sports and the sea
Our courses are held aboard the two brand-new Hansa boats consisting of a series of servomechanisms that make it possible for people with severe disabilities to sail independently.
For registration and information, fill out the registration form at the bottom of the page or call 0817647693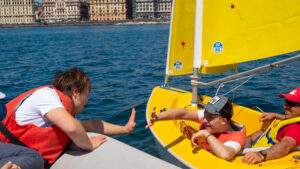 Information Form
* indicates required fields
Follow our students' progress on social channels Facebook  , Instagram , TikTok