Our social cooperative Cosy for you offers social-educational activities and services aimed at improving the quality of life and autonomy of people with disabilities and people experiencing hardship.
We carry out workshops such as the personal and domestic autonomy workshop, preparatory to the "Inclusive Bistro" workshop. The ultimate goal is the creation of a bistro run by disabled and able-bodied youth to facilitate their inclusion in the world of work.
We propose customized tourism solutions with the planning of accessible routes for everyone. We offer the possibility of using our transportation service adapted to the needs of people with disabilities.
Cosy for intends to offer the territory, which is quite lacking in them, resources for the world of disability, both by allowing in this way to respond more adequately to an ever-increasing and diversified demand for improvement in the quality of life of disabled people and their families, providing them with assistance and support in solving the problems of daily life -where public intervention is lacking- , and by fostering together processes of autonomy and empowerment, socialization and integration (including work), with attention also to the development of relational and communication skills among peers.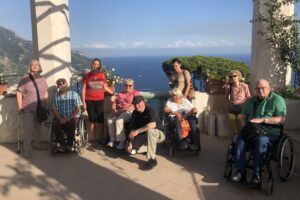 Multifunctional socio-educational center
Training for the tourism sector
Follow our activities and social-educational services for people with disabilities on social media: Facebook  , Instagram , TikTok